UKPLUS News 2020年にホームステイされた生徒様に英語でインタビュー!
2023年4月29日

Homestay UK
イギリスでホームステイ!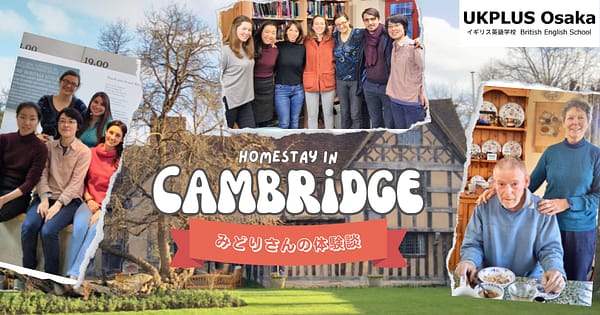 In early 2020, one of our Cambridge Advanced (CAE), Midori, went to the UK for homestay. She kindly agreed to write a blog post to tell us all about her experiences. Sadly, just as we were about to publish her experiences, in March 2020, Covid happened. So, as you know, people stopped traveling abroad. However, now that world travel has re-started and people are once again feeling more confident about travelling overseas, it's time to share Midori's story and photos with you. We hope that by reading about Midori's time in the UK, you might feel inspired to do something similar.
2020年初めに、ケンブリッジ対策コース(CAE)生徒様の一人、みどりさんがホームステイでイギリスへ行きました。みどりさんは私たちにその経験を伝えるために、ブログを書くことを快く引き受けてくれました。残念ながら、彼女の体験談を掲載しようとした矢先、2020年3月にコロナのパンデミックが起こりました。そして皆さんご存知のように、海外旅行ができなくなりました。しかし現在、世界旅行が再開され、再び海外旅行に安心していけるようになった今、みどりさんの体験談と写真を皆さんにお披露目する時だと思いました。みどりさんのイギリス滞在記を読んで、あなたも同じようなことをやってみようと思っていただければ幸いです。
みどりさんに英語で質問!
今回はUKPLUS Osakaの校長Tonyがみどりさんに英語でインタビューを行いました。
翻訳なしの文章、皆さんどれだけわかりますか?

Hi Midori! We heard that you went to a language school in the UK for two weeks. Could you tell us where you went and why you chose that school? What were your reasons for wanting to go to the UK to study some English?

I studied English in Central Language School Cambridge from 3 Feb. to 14 Feb.
To find a school, I searched on the web and narrowed down lists of schools in Cambridge.
CLS met my criterion such as school and class size or fee.  The decisive factor was the friendly and welcoming atmosphere shown on its Facebook.  It was so similar to UKPLUS Osaka that I thought I would quickly feel settled in the new school.
As I love British culture, I enjoyed trips to the UK for more than 10 times, but I would like to communicate with local people more closely, so I decided to go to a language school which arranges homestay accommodation.  I also thought that it would be a good opportunity to use English which I had learned in UKPLUS.

You stayed with a host family in England. Can you tell us about that? How is daily life in the UK different to Japan? Are there any similarities? And what about English food? And did you hear much about Brexit while you were there?

So far, I have stayed with 3 different families in Cambridge.   What impressed me most is they come home after work far earlier than Japan.   I guess that is not only because they do not work overtime but also because they prioritise time with family.   What agrees with one of my preconceptions about the UK is they enjoy home improvement and they are amateur interior designers.   Of course, I admit that differs depending on families, but there is the other thing which they have in common; delicious food!   The dinners they cooked were always delicious and never disappointed me.   The prejudice about British food is completely wrong.   Every family has different food choice.   Some of them served cosmopolitan cuisine like pasta or chili con carne, but the family I stayed with this time eats the traditional British food every day.   Not until I stayed there, did I find it has a wide range of dishes and is always served with various kinds of seasonal vegetables, Brussels sprouts, cauliflower, leek, swede, parsnip, etc.  In addition, the desserts exceeded my expectations.   I love the apple crumble, the rhubarb and the custard, and lemon surprise.   They were so glorious that I left the comment with full of praise for their food in the family's guestbook.
As for Brexit, I didn't dare to ask anyone because I thought the topic could be controversial and they must have been fed up with it.

What about the language school? Were the lessons similar to those at UKPLUS?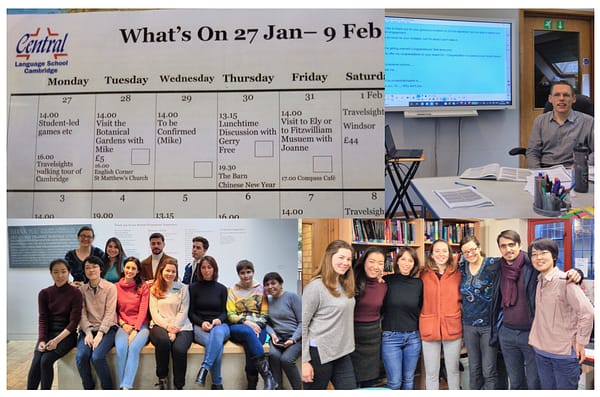 It is a very small school compared with other nationwide language schools in England.   The maximum class size is 10 students.   Most of the students take a general English course which consists of 10 lessons of 90 mins in the morning from Monday to Friday.   I chose an intensive course, so I had another 2 hr lesson each in the afternoon from Tuesday to Thursday in addition to morning class.   In the afternoon class, teachers focus on exam skills for Cambridge English and IELTS.    From 11:00 to 11:30, we have coffee break at the common room.   Students, teachers, and members of administrative staff spend time together to take break and have a chat.   Students are encouraged to communicate with other students to improve their English.   Some information about social activities etc. is given in the end of the break.
They teach us in the same way as UKPLUS; lessons are designed to improve all kinds of language skills and increase knowledge like vocabulary, grammar etc.   The lessons are conducted in an interactive way; we have pair works and discussions.   Needless to say, we have homework every day ,and if you would like to do more, you can borrow books, so-called graded readers,  from the library.   In short, UKPLUS is a very British English language school marooned in Japan.

What level did you study at?

I was in the advanced level class.   New students take placement tests on the very first Monday.

How were the other students?

There were 6 students in the class.   They were from Italy, Romania, Spain, Switzerland and 2 from Japan including me.   Most of them were studying for CAE as well as I, and one for CPE.   They were eager to learn.   Students who have objectives like Cambridge exam or IELTS appeared to be determined to study hard.

Did you spend time with your classmates after lessons finished? Did the school have a social programme?

I didn't go anywhere with the classmates except social activities during the week, as the students whom I got along with were studying at school on their own even after school, but on Friday evening we had afternoon tea for a student leaving the school.   I had the chance to eat out or go to the gym with them, but I didn't because I wanted to stay with the host family as long as I could.   If I had stayed longer, I would have spent time with classmates more.
Almost every day the school has social activities, for example, games, baking scones, Scottish dancing, going to pubs, bowling etc.   Sometimes they are very "Cambridge-ish" activities like choral evensong at King's College Chapel, punting in the River Cam, visiting museums or the botanic garden ran by the university, a day trip to Ely and so on.

What else did you do in your free time?

I walked to the Orchard in Granchester which is a quaint village, had cream tea at a café, went to a service in St John's College chapel for beautiful choral song, and visited my former host mother, who has stopped having students at home as she is busy looking after her new born grandchildren.   In the weekend, I visited Warrick castle and Stratford upon Avon on a package tour organaised by a travel agency which offers coach tours every weekend for international students in Cambridge for competitive price.   On Sunday, I spent time at home due to the bad storm till the wind became weak, and then visited the Fitzwilliam Museum.

Did you have any difficulties while you were in England?

Some of Italian or Spanish students spoke heavily accented English.   During the first week, I hardly caught what they were saying.
As for the life in England, I had no difficulties but I missed the Japanese hot bath as it was winter.

Overall, was it a good experience? Would you recommend other UKPLUS students go overseas – to a post-Brexit UK even – for studying English?

I say" Absolutely yes!!" to both questions.   At first, I had worried whether I could integrate with the family and the school, but it was unnecessary.   After starting the life in Cambridge, I regret not coming much earlier.   Now, it feels like be addicted to study English in Cambridge; This is the 4th time studying in CLS!
Brexit is no big deal for Asian people as we need the proper visa to stay in the UK in any case.
I strongly recommend going overseas even the length of stay is short as is often the case with Japanese.   No matter how short it is, you will learn something new and find something precious there.
とても素敵な体験をされたようですね。またぜひ学校でみどりさんを見かけられたらぜひホームステイについて質問してみてくださいね。
5月1日(月)~5月7日(日)までゴールデンウィークのためお休みとなります。
その間にいただいたメールやお電話は5月8日から随時対応してまいります。どうぞよろしくお願いします。
レベルチェック・カウンセリング随時受付中!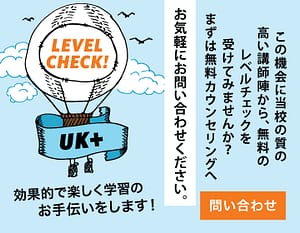 【関連記事】